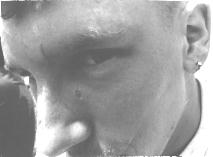 Lovingly Edited Fluff
This is an old picture of me from college, somewhere's around 1988-9. You can do the math. I graduated from the University of Pennsylvania with a degree in Computer Science way back then. Boy, the times they are a changin'. My old girlie took the picture, nice angle.
That was back when I was playing lots of Ultimate, back when 165-g World Class Frisbees were the disc of choice. Now Discraft has enabled people with the wimpiest of wrists to throw like the rest of us. So what if you can play in the wind sensibly now, I miss the dish. U-Max, anyone? I have my newish cleats in the closet, both screw-ins and moldeds, as always both well-dried and supple, and await the future's call. Aprill Fools in Manasass?
I helped drive a new car out to Seattle in '91 for somebody who flew, and my friend learned how to drive a clutch with it. Sorry. Been here ever since making my way in the highly non-glamorous field of screen printing. I am slowly realizing the tremendous underutilizing lameness of this employment, but happily slog away and pay my rent. The more I wish for the job of my nightmares the closer it comes to falling in my lap..
I am most incredibly excited at finding those lovely people at Geocities to give me 3 (now like 10 or something) megs of server space. Their's will be the first link I insert, promise. Thankyou for getting me world-wide with all the multimedia niceties. A cyberlife, assuredly.
My parents didn't name me Dookie, or Velocipede, but actually Adam Caffrey, and you can e-mail me at the spinning box.
I live with my roommate Otis, a rapidly growing juvenile iguana. He's a teen in iguana years (angry, young, and testosterone filled), about 2 1/2 feet long, now about a foot STV. He freaks around the full moon just like me. Got him to mostly stop that tail whipping, he's realizing who the alpha male is, or maybe just that the warm hand is his feeder and petter. He's got a healthy addiction to his killer salad and enjoys collard greens and all types of real lettuces in moderation, not to mention a love of warmed-up frozen peas. He won't sit still for a scan, the light makes him wiggle. Don't ask about slapping him on the yardstick. Had a camera, but lost it. Waiting for the digital video cam to come down in price. Then I'll sicken you with Otis info.
This is Otis on the left,. Soon Otis will be old enough for the unicycle, however, as that's an old spike shedding, something he does more the more you feed him. Actual size about 1/2 an inch, late 1997.

I'll rub him more.

Otis pix taken 5-17-98! There he is! Ooops, camera consequently lost.

All Otis, 24-7.

Thankyou Mozilla.