The First Annual Race
Well, I was awfully tired that night having been doing the art and printing the shirts and writing on the giant master list, but I think it went,and they've said it went, pretty well. Bicycle messengers still speak the praises!
And why,why, why race you ask?
It was all for the trophy. Well, the kegs were at the end too. And the band, and the party. Okay, the trophy was most of it. Dan, our club's bishop, lent his shattered clavicle to forge it. An outlandish bicycle trophy was awarded, but it's rather unwieldy and is still at the shop. Dave really loves it and it has many pedals and reflectors and plenty of small wires stored on it.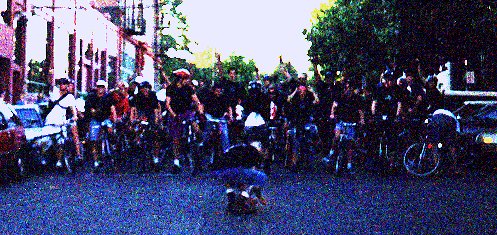 We got them all in individually numbered T-shirts, well, 72 of them at least, and crowded them into the duct tape box in the middle of the alley. We worried about people leaving early, but I don't think anybody did. Bubbles had a M-40 or some weenie boom-stick and lit that baby in front of them. I got out of the way. I should have went to clean half-full pitchers off of the vacant bar, but hey, I wanted to get to the kegs too. Besides, 100-some people just split and all that was left was the breeze off of them. We rolled choppers behind.
Some guy Ben won. He's a bike messenger. His picture's on the wall at the shop and I'll go pull it off and scan it as soon as I remember. He's got the trophy.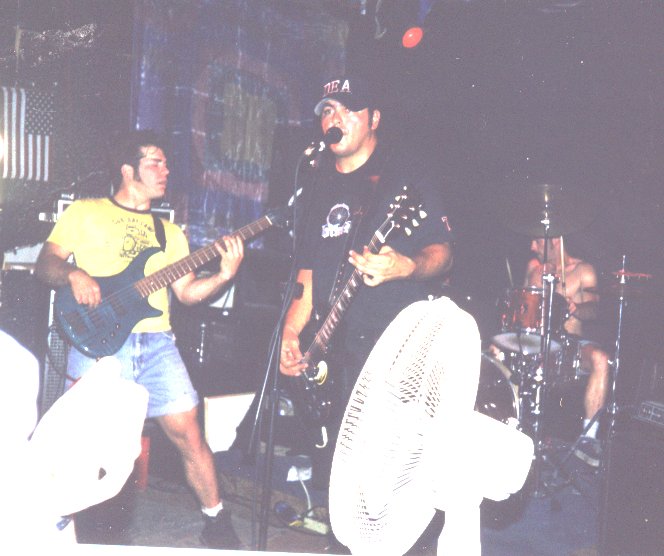 This is Russ, they're a rockin' band. They've got 6 sideburns between them. There's their biggest fan right up front. I think Monty Banks played too, but I can't remember. Oh,yes, I've been reminded. It was really hot up there. That's a good look at the BIKES logo for this year at least, maybe more. Thorny tires, ya!
Please make sure to pre-register in like July next year.
Oh, this is Ben. He shall wear next year's yellow jersey. Yet another nice shot of the shirt. What number is that? Forty----....

back to picture index